Nursing colleges near me – Nursing is the most respected career field with a huge demand all around the globe. Pursuing a career in nursing brings a number of benefits to it. A number of students search for the best colleges in order to avail of the best education in the nursing stream. And if you are also surfing to know the best nursing colleges near your area then in this context, Mata Sahib Kaur College Of Nursing stands above. Get more information about "nursing colleges near me" scroll below.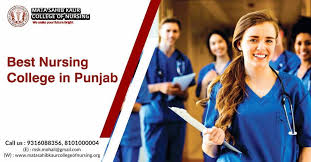 A nursing career offers a number of great opportunities for the students. And students seek the top colleges to get admission. The faculty of the college is what makes the college high-rated.
And Mata Sahib Kaur College of Nursing offers the best faculty and staff with highly -experienced and skilled staff. That put every effort to provide the best knowledge to the student with practice.
Mata Sahib Kaur College of Nursing, Mohali, Punjab
If you are searching for the top college for nursing then Mata Sahib Kaur is the best option ever. This is the utmost nursing college with best ever faculty. The college focus on providing practical knowledge to the students along with theoretical.
We trained the students in such a perfect manner that helps them to go for biggest opportunities world-wide. Mata Sahib Kaur offers a number of courses to the students. And also guides them to opt the best in accordance with their skills and area of interest.
Highly-experienced and skilled staff.
Affiliated with BFUHS.
Advanced infrastructure.
Focus on practical training.
Links with top hospitals and health organizations.
Courses Mata Sahib Kaur College Of Nursing Provides
Nursing is a wide field and we at Mata Sahib Kaur College of nursing offer you a number of courses to cover each area with perfection.
Also, we cover every stream and area in nursing to provide the best. And utmost career opportunities to our students. Mentioned below is the list of the courses that we offer.
BSC. Nursing Basic Courses.
MSC. Nursing Courses.
BSC. Nursing Post Basic courses.
A.N.M nursing courses.
G.N.M nursing courses.
Scope Of Nursing
There is a huge scope of nursing students all over the world. As nursing is the noblest profession. And the requirement of the well-trained skilled nurses is everywhere. The distinctive nursing sectors posses nursing students with high-term wages.
This is the reason that demand for the nursing profession is also huge. Not only the nurses get great career opportunities nationally and internationally. But they also enjoy the number of benefits in nursing. Some of which are mentioned below:
Job Flexibility Is High
Enjoy Strong Personal Satisfaction
Work in Many Locations
High Salaries
Enjoy Career Mobility
Many Nursing Specialties
Work in Many Different Patient Populations
Huge demand nationally and internationally.
Why Choose us?
There are a number of job opportunities in the nursing profession. You can check each aspect while a selection of the best nursing college near your area like Chandigarh Mohali Punjab. Because this will make you learn the nursing skills to the maximum and work opportunities will also be more.
Mata Sahib Kaur College of Nursing is the top class nursing colleges in Punjab. A huge number of admissions we get every year. Our staff makes sure to educate the student in a qualitative manner.
In accordance with future work conditions. We trained our students and also provides them placement opportunities. Here below are some other benefits of choosing us over other nursing colleges in Mohali, Chandigarh, and Panchkula.
Best nursing institute in Punjab, Mohali, and Chandigarh.
Student-friendly environment.
Best teaching aids use.
The excellent result every year.
Extracurricular activities.
Internship with top hospitals.
100% placements.
Recognized college.