Scope of M.Sc. Nursing in India – What are the available options for higher studies after B.Sc. nursing in India? Looking for the options for medical courses after B.Sc. nursing? As per the demand, scope of M.Sc. Nursing in India is much wider and is having a number of job opportunities available in the field. Nursing is the most preferred career of the current time. The reason is an attractive M.Sc. nursing starting salary in India. For this, you need to choose the best nursing college for you. Mata Sahib Kaur College of Nursing will let you enjoy the best scope opportunities of M.Sc. nursing in India.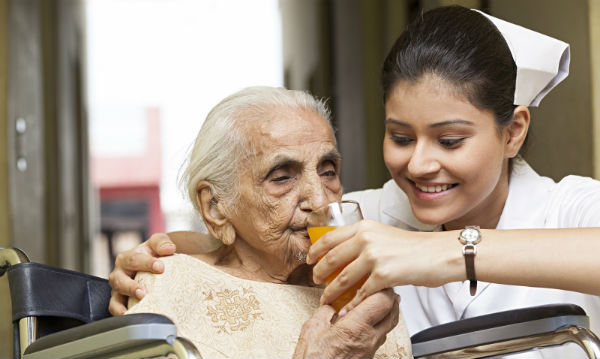 According to previous data analysis reports, there is a shortage of around 1.94 million nurses in India. So if you choose the nursing field as a career option, more will be the work opportunities after M. Sc. Nursing for you. Many are the nursing colleges running in the country to nourish the talent to delight the people with the best medical services. But only some of the colleges are able to deliver quality knowledge and nursing training. Selection of the right nursing college will enhance the scope of M.Sc. nursing in India. 
The scope after post basic B.Sc. nursing is quite amusing. Therefore, if you are willing to join Mata Sahib Kaur College of Nursing for better career opportunities after M.Sc. nursing, our team is always ready to help you with the concern. You will be able to enjoy a handsome Master of Science degree salary after the course completion. In order to know how you can contact us, then here is our email address (msk.mohali@gmail.com) and contact number (9316088356, 8101000004) to make it easy for you.
Scope or Career Opportunities After M.Sc. Nursing in India
What are the career options after completing an M.Sc. nursing course? What all are the career scopes for M.Sc. nurses?  Every person wants to know about the scope of the field they are joining. Similarly, the way you are planning to go for nursing, you must be anxious to know about the M.Sc. Nursing scope and salary in India. Because it will decide your career path. And you must be willing to know the answers to your questions like what is the scope of M.Sc nursing in mental health nursing or psychiatric in India. So the career is really fruitful in this arena and work opportunities are more.
In addition, statistics depict the scarcity of nurses in the country. Therefore, you are having the benefit of a number of job opportunities after M.Sc. nursing in India. Not only in India, but the scope of M.Sc. Nursing abroad is even more. And there is an end number of job vacancies for M.Sc. nurses worldwide. Below mentioned are some of the areas which you can join after your course completion.
Nursing supervisor, executive, tutor, and in-charge.
Clinical instructor.
Paramedic nurse.
Assistant nursing superintendent.
Tutor in psychiatric nursing.
Anesthetist.
Occupational health nurse.
Critical care nurse.
Staff nurse.
Therefore, you have the opportunities in huge number. In addition, there are several other specialized fields which you can choose to have the best career. The scope of M.Sc. Nursing in pediatrics, medical-surgical, community health nursing, intensive care units, gynecology, obstetrics etc. is also high in the country. There are different courses for higher studies in nursing. The scope of doing MBA or Ph.D. after M.Sc. nursing is also much wider to offer you high salaries. And the salary for jobs after B.Sc. honors nursing, M.Sc. nursing and Ph.D. is pretty much high.
The requirement for Skilled Nurses in India
What will be the very first question of yours before joining a vocational course? You will be looking for every single detail in the field. And when you are joining this course, you will definitely want to know the M.Sc. Nursing scope, course, career, jobs, salaries, eligibility and several other related things. Consequently, your future career will be better if there is a high requirement for skilled human resources in your interested field. And this demand is automatically leading to high salary packages for nurses in India per month as per eligibility.
In the nursing field, India is running out of nurse shortage in the country. People are eager to utilize the best medical services with better nursing care. Therefore, the field is in demand for skilled nurses. The average salary of a government M.Sc. nurse is a little bit high and much growth will be there.
The salary packages are high abroad. In order to enhance your nursing skills more and to enlarge the scope area, you can go for study after M.Sc, nursing. The options will include higher studies like Ph.D. or MBBS after M.Sc. nursing course. In addition, it will also make you more capable to earn high M.Sc. Nursing lecturer salaries in India. Then afterward government nurse salary in India and abroad will see an amazing hike.

M.Sc. Nursing Course in Mata Sahib Kaur College of Nursing
Do you want an excellent nursing career in India? Are you looking for the best M.Sc nursing college in India to make you ready for the foreign work conditions also? Then your query has made you reach a right result page. Because Mata Sahib Kaur College of Nursing is the top nursing institute to give wings to your career dreams. Yes, we are a leading name to provide the best quality education and training to our students which let them earn higher in the field. Therefore, we are mentioning here some specific qualities you are going to experience with MSKCN, scroll down to have a look.
Best Nursing college in the north region.
Excellent teaching and training techniques used.
Recognized from INC and all other nursing authorities.
Most preferred nursing college.
Best learning material in use.
Teaching aids and more practical knowledge.
Expert teachers and trainers.
Student-friendly teaching practices.
Other co-curricular activities platforms.
Internship in best hospitals and placement in top pharma areas.
In order to experience all these qualities yourself, you will have to join us for that. We assure you the best nursing career in India. Consequently, you can get have a growth platform and nursing job opportunities in foreign countries also.