Operation Room Nursing In Punjab – If you don't want to toss about for jobs after completing your vocational courses. Then nursing is the field to join in. Because there is an end number of jobs waiting for you in the field.  Among different specialities, Operation Room Nursing is having a wider scope. There are several colleges available for Operation Room Nursing Courses in Punjab which you can join.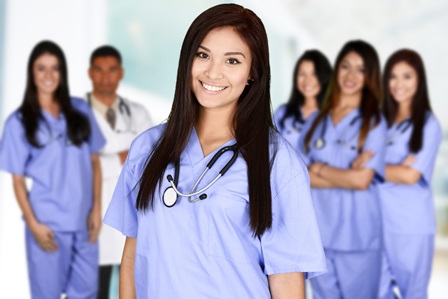 Operation room nursing is what you can also call as perioperative nursing. Indulging into the noblest profession will benefit you with the amazing growth and opportunities. Mata Sahib Kaur College of Nursing excels in imparting the best knowledge and skills. We are emerging India's #1 nursing institute progressively. Different aspirants are preferring as the best Operation Room Nursing college in Punjab.
Operation Room Nursing Scope, Jobs, and Salaries
Representing the most respectful profession i.e., nursing is a pride in itself. We all know that our body is faces many health issues during our lifetime. So we need medical help many a time. Nurses play a vital role in maintaining the overall health of the country. Therefore are recognized as the heart of the whole medical system.
Unfortunately, our nation is requiring over 2 million nurses at present. The scope of nursing is quite wide and this gets enhanced with the continuous adding experience. In addition, the job opportunities and scope of Operation Room Nursing are quite impressive. But to explore the best in the field you will need to join the best nursing college for Operation Room Nursing courses in Punjab.
Because the best college will prepare you in the most amazing way to get over the challenging work situations. With the best nursing skills and experience, the salary of an operating nurse can see an amazing hike.
Peri-Operative Nursing Job Roles and Responsibilities
If you are about to enter into a professional working environment, you must be competent enough to perform certain expected tasks. The more brilliantly you are performing your job tasks, mesmerizing work opportunities will be there. Most specifically roles of an operating nurse will be categorized in the following 3 categories.
Preoperative nursing roles.
Intraoperative nursing roles.
Postoperative nursing roles.
These phases include all the tasks and responsibilities before, during, and after the surgery process. You will have to take care of the overall health of the patient during the whole operating process.
There can be some other roles which you can perform as an operating room nurse. These roles may include the circulatory nurse, instrument nurse, RN first assistant, and perianaesthesia nurse.  There are some skills will need to possess for an easy ongoing professional life. Let's have a look on major one of them.
Better communication skills.
Convincing skills to make the patient ready and comfortable for further processes.
Better interpersonal skills.
Strong-hearted and courageous nature.
Excellent at stress and situation management.
Great observation skills.
Dedication and integrity.
Critical and analytical thinking.
In addition, there are some other minor roles and responsibilities which are expected out of you. Some of them can be innate and some of them can be acquired. For that, it's necessary that you choose wisely the top nursing institute for Operating Room Nursing courses in Punjab.
Eligibility Criteria for Operation Room Nursing
How to become an operating room nurse? So after roaming around almost the whole of the information about future aspects of the course. Now let us take a look at some of the eligibility requirements for Operation Room Nursing, scroll down.
The age must fall in between 17-35 years.
You need to have a 2-year associate degree in nursing.
Registered nurse license must be there with you.
You can join in after graduation or even if you are having some experience.
Top Nursing Institute for Operation Room Nursing Training in Punjab
If it comes to alternatives, you will find them in hundreds. But the question arises to find the best. Mata Sahib Kaur College of Nursing is one of the top 10 nursing institutes in India 2018. We do want to offer our students the most successful nursing career and consequently the best medical health professionals to the country.
In order to train skilled nurse manpower, we are having the top experienced faculty staff. And they are always ready to help you in any case. With us, you will get thorough knowledge and skills in the field. And we are having the most affordable Operation Room Nursing fee structure here.
Internships and results are just enjoyable with us. In addition, 100% placements are making us maintaining the position of a top nursing college in India. Therefore you can choose us for the best training in Operation Room 0f Nursing courses in Punjab.